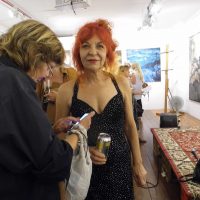 Tap Gallery Leslie Dimmick's 'Drive' Exhibition Opening, and 65th Birthday Party 14th April 2018 was a really lovely night full of really interesting people. I don't think there was one person there that wasn't interesting. So many artists in the one gallery! Leslie's 'Drive' Exhibition works were beautiful, bold, and some quite industrial and technical. These works showed space at a distance taking you into the picture and feeling like you were being there yourself.
The gallery was packed. Leslie looked as glamourous as the day I first met her ten years ago.
Pippa, an 87 yr old lady sang lots of fun post war songs and she brought the house down with her bright eyed talent and entertaining spirit. I got to speak with her for quite some time, and every moment was a narrative in a time gone by.
Gilda sang so beautifully, with her sultry voice, and beautiful appearance.
Poetry was recited, and speeches made by loving colleagues and friends.
Debra Keenan made a brilliant speech among others that also applauded the talented birthday artist.
I also sang a song to celebrate Leslie's lovely birthday and exhibition bash. A pleasure to add to the fun.
As the night faded, the left over people ended up at a lovely French restaurant in Crown Street, Sydney. Here are a few more images of the night: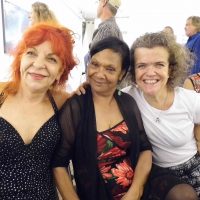 Good friends celebrate! Leslie, Mor Mor Mutthi Mutthi and Debra Keenan.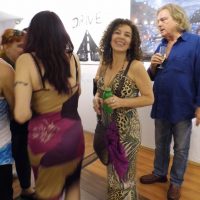 The lovely Gilda.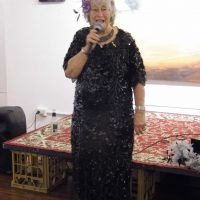 Amazing Pippa.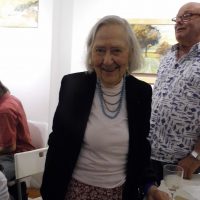 90 yrs plus Janet Venn-Browne still practising artist was also there. Such fun.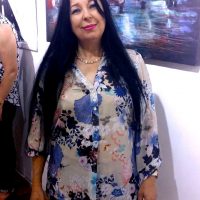 Artist Anna Boros smiles for the camera.